Let's face it, life's full of unexpected surprises and unexpected events. This sometimes may interrupt our daily routine or shift our emotional state very quickly. Some of these surprises might be good and some of them: not so good. Sometimes they are life shaking, causing difficulties and irreversible problems in our lives.
Most people are taught that being in control is a good thing, as it gives a sense of security and safety. Therefore, we've learned to arrange our lives in a way where everything is predictable and familiar. We follow the same routine, eat the same kinds of food, have the same types of jobs and experiences, meet the same circle of family and friends, and avoid things we're not familiar with.
We feel safer in familiar places without interruptions or changes in our daily lives. Attachment causes us to cling to the familiar and creates fear of letting go.
But how do you react to surprises and unexpected events?
Do you panic or become stressed?

Do you get flustered or angry?

Do you hide or "run away" from a situation?
Many people actually find it difficult to cope not only with negative experiences but also with positive ones. For example:
You want to make a cup of coffee but discovered that you ran out of coffee.

When you arrive at the bus or train station in the morning, you found out that the bus or train will be delayed and you will be late to work.

You arrive at a party and noticed your best friend's talking to someone you dislike.
The truth is, life is full of surprises and unexpected turns that are outside of your control. If this causes you anxiety and stress or affects your moods and behavior, you need to do something about it. Why? Because chronic stress leads to physical or mental illness if you don't know how to handle it effectively.
Even if you live the same kind of life, doing the same habitual things day after day, there could be unexpected situations. The best way to handle these situations is to be prepared for them. Below are 10 proven tips to help you handle any unexpected changes effectively (and how to turn these into opportunities fast!).
10 Tips for Turn Unexpected Situations Into Opportunities
1. Try to accept the fact that unexpected situations are part of life and are unavoidable. Change is part of life, and the sooner you acknowledge and accept this fact, the better you will feel. When you accept this to some extent, it will be easier for you to deal with anything that happens in your life.
2. Focus only on what you have a control over and stop focusing on what's outside of your control, such as weather, politics, religious views that are not aligned with yours, other people, food that your family members eat, etc. Instead, focus on controlling your own behavior and learn ways to make yourself feel good naturally. It will release energy that you use to control something outside of yourself and focus your energy on doing something you enjoy.
3. When making your plans, always have an alternative plan, in case the first plan fails. This would prevent you from feeling helpless, fearful, and not know how to proceed.
4. Practice mindful assessment of a situation. If you have a tendency to get angry or panic, evaluate the situation using common sense and logic. In many cases, this could be something of minor importance that is easy to fix, but your body is simply overreacting because it's unexpected. Recognize this pattern and use EFT (Emotional Freedom Techniques) or other techniques to calm down your body's fight and flight response.
5. If what happened is irreversible, recognize that becoming angry, stressed or panicking is not going to change anything. Remember that your emotional state creates the instant physical response in your body by releasing stress hormones, including adrenaline and cortisol. These hormones, if released on regular basis, are very addictive and poisonous to your body. They make your body age and die faster. Just this fact alone is enough to make you stop, think, and act differently.
6. Introduce small changes into your life to teach your body that change is unavoidable. This will help you deal more easily with surprises and events that are outside of your control. For example:
Do things that you usually do, but in a different way.

Take a different route to your work instead of driving on autopilot.

Eat a different breakfast.

If you are a coffee drinker, try to drink tea or a protein shake in the morning.

Meet someone new and show a genuine interest while speaking with them.
7. Try to focus on the present moment and take advantage of new opportunities that come your way. Instead of thinking about what you lost or dwelling on how bad the situation is, focus on what would make you happy in this moment of your life.
8. Build your willpower. Willpower creates inner strength and stability. It helps you have better control of your mind, your body, and your actions so that you can better deal with any situation. You can develop willpower and self-discipline by challenging yourself to do things you don't normally do, by doing something outside of your comfort zone, and by doing things that are good for you, for example:
Don't eat sweets at the networking event or at a party while everybody else is enjoying them.

Take a cold shower in the morning when you feel like staying in a warm bed.

Go for a ran when you feel like sitting on a couch and watching TV.
9. Practice meditation. Just 15 minutes of meditation every day can make a great change in your life, making you feel relaxed and unaffected by the events in your life. A certain amount of inner peace is most welcome in every situation, and meditation is one of the best ways leading to inner peace.
10. Learn about your yourself and your own passions. What makes you jump out of bed every morning? Do you have a passion that makes your soul sing? Are you inspired by an idea, an object, or a person?
The last 2 tips require some training in order to be able to use them. Since surprises, changes, and unexpected events are part of life, it would be very useful if you train yourself, and develop skills that would be of great help in facing unexpected situations.
If you're earnest in your desire to connect with your passions and develop inner peace, I highly recommend that you download and read my free e-book "How To Create A Passion Driven Business That Attracts Best Customers And Helps You Thrive."
This book will help you, among other things, develop the skill to discover your passions, and be able to cope with life's changes and surprises.
And if you're in the Matawan, New Jersey area or planning to be there, check out our live workshop – where we dig in deeper about the powerful ways to deal with unexpected events and how to turn them into opportunities that grow your business and improve your personal life. This workshop will also help you focus on your own gifts and talents and find ways to monetize them.
(Relevant Resource: "How to Monetize Your Passions: Making Money Doing the Things You Love.")
Enjoy these powerful resources! Also – I'd love to know…
How do you deal with surprises and unexpected challenging events or situations? Do you use a tool or an exercise to shift a negative tailspin into something positive right away? Do share in the comments below! 🙂
Love yourself,
Irina Maryanchik, EHH-MA, EEM-CP, PLT, Rev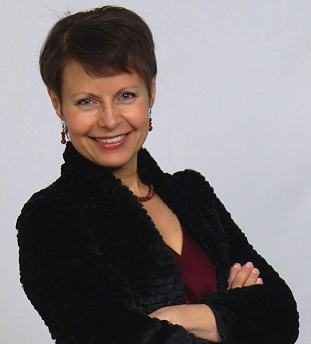 Irina Maryanchik, EHH-MA, EEM-CP, PLT, works with women entrepreneurs who suffer from autoimmune illnesses. She helps them rebuild their health so they can create profitable, passion-infused business. She is a gifted intuitive, Human Design analyst, Energy Medicine Practitioner, Past Life Therapist, Human Biofield Specialist change catalyst, passion coach, teacher, and speaker. Find out more about Irina here.